Uitreiking Re-use & Decommissioning Report 2021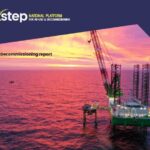 Op donderdag 8 juli is de uitreiking van het jaarlijkse Re-use and Decommissioning Report van Nexstep. In verband met de huidige omstandigheden doen we dat middels een webinar. U kunt zich inschrijven via de volgende link. U ontvangt een link naar het evenement voordat het plaatsvindt.
Het programma voor het webinar op 8 juli is als volgt:
15:00 – 15:05 Begin webinar met moderator Marcel Hoenderdos (EBN)
15:05 – 15:10 Update Road to 30%
15:10 – 15:15 Welkom door Jacqueline Vaessen 
15:15 – 15:20 Het eerste exemplaar van het Re-use and Decommissioning Report 2021 wordt overhandigd aan Drs. L.M.C. (Lidewijde) Ongering (EZK)
15:20 – 15:30 Gesprek met Drs. L.M.C. (Lidewijde) Ongering (EZK)
15:30 – 16:15 Panel discussie met Jan Willem van Hoogstraten (EBN), Twan Goense (ONE-Dyas & YEO (Young Energy Officer)), Erwin Coolen (De Rijke Noordzee) & Mark Driessen (Porthos)
16.15 Einde webinar
We kijken ernaar uit u te verwelkomen!