Uitreiking Re-use and Decommissioning report 2020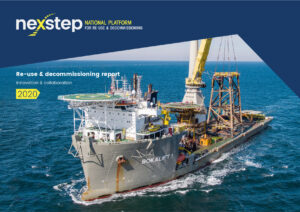 Op donderdag 2 juli is de uitreiking van het jaarlijkse Re-use and Decommissioning Report van Nexstep. In de huidige omstandigheden doen we dat middels een webinar. U kunt zich inschrijven via de volgende link. U ontvangt een bevestiging per email.
Het programma voor het webinar op 2 juli is als volgt: :
11:00 – 11:05 Virtuele opening van het nieuwe Nexstep kantoor
11:05 – 11:20 Interview Jacqueline Vaessen door  Marcel Hoenderdos, waarna het eerste exemplaar van hete Re-use and Decommissioning Report 2020 overhandigd wordt aan Maarten Camps (EZK), Jo Peters (NOGEPA) en Jan Willem van Hoogstraten (EBN)
11.20 – 12.00 Panel discussie met Floris van Hest ( Stichting de Noordzee), Marcelien Bos – de Koning (Burgemeester van jouw Noordzee), Maarten Camps (EZK), Lex de Groot (Neptune Energy) en Sander Vergroesen (IRO)
12.00 Einde webinar
We kijken ernaar uit u te verwelkomen!