Re-use & Decommissioning rapport 2022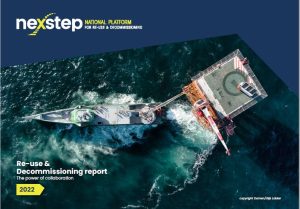 Het vijfde Re-use & Decommissioning rapport geeft inzicht in de olie- en gasinfrastructuur die naar verwachting de komende tien jaar in Nederland wordt ontmanteld en gaat over wat tot nu toe is ontmanteld. De titel van dit rapport is "The Power of Collaboration", aangezien samenwerking hét uitgangspunt werd voor onze activiteiten binnen Nexstep.
Als we naar de toekomst kijken, zien we opnieuw een lichte verschuiving in de ontmanteling. Dit kan worden verklaard door de moeilijke jaren 2020 en 2021, met extreem lage prijzen, de COVID-19-pandemie en de problemen met beperkingen op de uitstoot van op stikstof gebaseerde verbindingen die ontmantelingsactiviteiten vertraagden of beperkten. Wel zien we een transformatie in dit patroon. In 2022 vinden verschillende ontmantelingsactiviteiten plaats en enkele daarvan zullen we in dit rapport uitlichten.
In het rapport van dit jaar hebben we interviews opgenomen over de Joint Well-campagne en de Peer Assist die werksessies faciliteert waarin ervaren collega's, die werkzaam zijn in ontmanteling, van verschillende operators reageerden op een gepland ontmantelingsproject om het te verbeteren. Lees op de achterkant van de hand-out over de prestaties van vijf jaar Nexstep.
Re-use & Decommissioning rapport 2022 ENG
Re-use & Decommissioning rapport 2022 NED – handout