Jacqueline Vaessen new chair of Top Sector Chemistry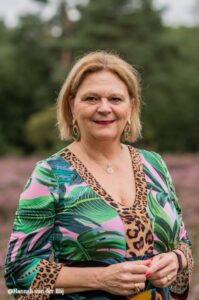 copyright Hannah van der Blij
As of 1 September 2021, State Secretary Keijzer (Ministry of Economic Affairs and Climate Policy) has appointed Jacqueline Vaessen as chair of Top Sector Chemistry. She succeeds Emmo Meijer. Vaessen is also the general manager of Nexstep, national platform for re-use and decommissioning of oil and gas infrastructure. She will combine these two functions.
A passion for energy transition
Jacqueline Vaessen studied chemical technology and started her working life as a technologist at Shell in Moerdijk. In 1996, she switched to Syntens, the former innovation instrument of the Ministry of Economic Affairs and Climate Policy. In 2004, she started her own company and for many years she was active in promoting technology and improvements in MBO education, and for several years she was associated with an engineering firm that focused on making the industry more sustainable. In 2015, she became a member of the Provincial Council of Utrecht as spokesperson for energy and economy. In 2018, she started in her current position as general manager of Nexstep. At Nexstep, together with TNO, she took the initiative for the first offshore hydrogen production pilot on an existing platform. She and her team also prepared a first tender in which six operators will jointly decommission wells, a worldwide first. Jacqueline's background, knowledge and experience within the oil and gas industry makes her commitment and experience very valuable for a healthy future for this top sector.
Jacqueline Vaessen is very much looking forward to working as the chair of Top Sector Chemistry: "It feels a bit like coming home to the sector where I once started my working life. There are many challenges and opportunities for the sector, such as making the sector more sustainable, the energy transition and circularity. I'm looking forward to tackling this together with the top team."
In addition to her role as the chair for the chemistry sector, Jacqueline Vaessen will also remain active as general manager of Nexstep. Many of the challenges facing the chemical industry are also visible in her current field of work.
Jan Willem van Hoogstraten, CEO EBN and chairman of Nexstep's Supervisory Board: "We are proud that Jacqueline has been appointed to this important role and that she can now also use the knowledge and experience she gained at Nexstep for the chemical industry. Jacqueline will continue her role at Nexstep, taking the projects she initiated in the past years one step further. We think that both functions can reinforce each other well."
Collaboration as a basis
Outgoing chair Emmo Meijer has done a great deal to promote a Top Sector that prioritises sustainability in the chemical industry. This resulted in, among other things, national platforms for sustainable materials, recycling of plastics, electrochemical conversion and the circular economy. Successful growth fund proposals in a cross-sector partnership build on this. He will continue to work on some of these topics at EU level.
Chemistry
Top Sector Chemistry is one of the ten Top Sectors with which the Dutch business community and knowledge institutions worldwide contribute to capitalising on the economic opportunities of societal challenges.
Chemistry focuses on five of the seven challenges: health, nutrition, transport and climate & raw materials. Because most challenges cover multiple disciplines, the top sector sees many opportunities for cooperation with the other top sectors. This includes the development of sustainable products, renewable raw materials, clean production methods and smart materials.
The Netherlands ranks among the top in the basic chemistry, food ingredients, coatings and high-performance materials categories. The chemical industry also has to deal with the problem that raw materials are running out or are not readily available. But this also offers opportunities. In the coming decades, the chemical sector wants to take a leading role in the transition to green chemistry. This means using sustainable and environmentally friendly raw materials.
The Top Sector Chemistry stimulates and facilitates public-private partnerships between the business community and knowledge institutions to substantiate and implement the plans from the outlines.
For questions, please contact Nicole Leclercq via nicole.leclercq@nexstep.nl.